The wait is over. Its January 30, 2013 and the Women's Cricket World Cup is finally here. The event hosted by India following its 2011 Men's team's World Cup winning success, provided high amplified entertainment following Indian Prime Minister Mr. Manmohan Singh declaring the event open. The Eight captains came into the arena with decorated Rickshaws, just like their counterparts did in 2011. But the biggest cheer in the stadium was reserved for the host captain Mithali Raj as she waved to the crowd. It was followed by live acts from Bryan Adams and Sonu Nigam……
Sounds weird?
Of course It is….
Although wouldn't it be surreal, If all this hoopla was actually part of the opening ceremony,If at all it ever took place for a Women's Cricket World Cup. The mega-event which kick started in 1973, two years prior to its male edition has eight teams competing for the coveted glory this year. Of the eight teams, Australia leads the race with 5 World Cup wins, followed by England with 2 wins and then New Zealand with 1 World Cup victory. The Indian women's team have always been in the reckoning but haven't been able to convert their good starts into World Cup glory.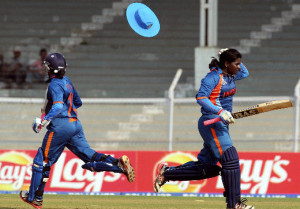 For a sport that is revered by 1.5 billion people, in a country that ranks Cricket 1 to 9 and nobody knows what comes after that is astonishing, but I am sure the Indian Women's cricket team was not as surprised with the welcome they got into the stadium for their opening game against the West Indies. The stands were empty, fans were silent and once again 22 diminished spirits played the sport like the usually do. It was work as usual.
Len Hutton, one of the greatest Englishman to have played the sport had once said about Women Cricket.
"Ladies playing cricket is like a man trying to knit".
Even after 40 years, when this comment was made, I don't think mindsets have changed. If Cricket is not going to garner attention in India, I am scared about sportswomen playing other sports in the country.
Is it because,
1. Women just don't Follow the sport ? Certainly not!
As per a 2011 survey conducted by leading UK based sports consultancy SMGYouGov, 76% of Urban Indian women in the age group of 13- 25 follow the game of Cricket regularly, 65% of which watched the 2011 Cricket World Cup. There is clearly no dearth of following of the sport within the female section of the country.
2. Lack of incentives for women cricketers – Possible.
On one hand we have the BCCI ( Board of Cricket Control in India) world's richest cricket board , while on the other the Winner of the Senior women inter-state one-day championship takes home a prize money of meager 3 lakh( US$5640) , lesser than the winner of Vijay Merchant trophy for Under 16 Cricket which gets a prize money of 4 lakh (US $ 7520) based on Times of India's article.
Disparity at such higher levels is horrendous and derogatory to International sportspeople of any country, let alone India.If you think It happens only in India, you are seriously wrong.
England's Secretary of State for Culture, Media and Sport,  Maria Miller voiced her strong opinions on disparity in payment schemes for women cricketers in the UK. Where male cricketers received a daily allowance of 61 pounds ( US 96 dollars / Rs. 5118), the women cricketers only received 37 pounds (US 59 dollars / Rs. 3000).  All this, in a country which has a well-developed cricketing infrastructure in place.

If It took Kapil Dev's 1983 World cup winning feat to galvanize the young Tendulkar's to take up Cricket, I wonder what would it take to arouse the next generation of women sportsman to take up Cricket as a career option?
Despite all these limitations, there are Women in Cricket who are stamping their mark on a global stage.
Take for example, the 23 year old English Wicketkeeper-Batsman Sarah Taylor who was recently selected for Sussex Men's Second XI team to represent English county this summer.
Keeping aside the debate, whether she should continue playing for the Men's team in the long run or not, but the fact is she competed, performed and excelled in the game, where many did not think women would.
Or Jacquie Hey who in September of 2012 was appointed as one of the Board of Directors for Cricket Australia, the first woman to become a Board member in its 107 year old history beating the great Australian captain Mark Taylor for the position.
These are women who battled it out in the middle, playing the system's inswinger's and at the end managed to get the ball beyond the boundary.
The 2012 Gender gap report released by the World Economic Forum which quantifies gender based disparities by tracking their progress over time, ranks India 105th amongst 135 countries measured, lowest.
The recent accounts of Delhi gang rape, have unearthed a new picture of India to the World. The disparity is clear. Something is clearly amiss. It's time the nation, its systems and the individuals in the system, start looking within themselves, otherwise India would keep getting bowled in its fight against disparity.