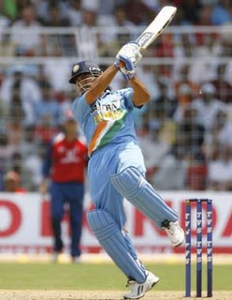 It's April 3, 2006 the 3rd ODI between the India England series at Fatorda, Margao.
James Anderson is bowling the 48th over with the then India wicketkeeper, Mahendra Singh Dhoni playing at the strikers end.
The cricketing world for the first time witnessed what we now call the Dhoni invented & patented 'Helicopter-Shot'.
The game of cricket is undergoing a sea of change. IPL is garnering support beyond expectations.
With increasing demands, the players have adjusted to the new workloads by reinventing themselves.
Be it the Dhoni's with their Helicopter shots or Kevin Pieterson with his Switch hits. They have in their own ways disrupted the Game of Cricket. Making a brand like Pepsi Co (who now is the official sponsor of the IPL starting 2013) endorse this unorthodox style of shot-making through their Ad campaign ' Change the game'.
With Helicopter-shot.com we intend make the attacking game evolve even further.
We at Helicopter-shot are dedicated to obsessively profile cricketing game changers Disrupting Cricket on topics of technology, innovations, news articles and products which we will keep you posted.